Sexta-feira, 20 de Julho de 2018
Até 25 de Agosto de 2018 em Évora
Chéri Samba
© http://www.magnin-a.com
A exposição de arte contemporânea "African Passions", no Palácio Cadaval, com curadoria de André Magnin e Philippe Boutté - a primeira que realiza em Portugal - inclui obras de artistas plásticos e fotógrafos do Congo, Costa do Marfim, Moçambique, Mali, Senegal, Benim, África do Sul e Madagáscar.
O festival "Evora Africa", que se prolonga até 25 de Agosto, apresenta um diversificado programa de exposições, concertos, performances, conferências e DJ'S e reúne trinta artistas plásticos contemporâneos, músicos e performers africanos. 
Omar Victor Diop, Série Diáspora
© http://www.magnin-a.com
Para além do Palácio Cadaval, o Templo Romano, o Cromeleque dos Almendres e a Biblioteca Pública de Évora serão palco de espetáculos da Orquestra Ballaké Sissoko, Costa Neto, Irmãos Makossa, Rita Só, Johnny Cooltrane, Mbye Ebrime, DJ Rycardo, Companhia Xindiro e os jovens dançarinos, Celeste Mariposa, Bambaram, Bassekou Kouyate, Selma Uamusse, Bubacar Djabaté, Áfrika Aki, The Zaouli de Manfla, Miroca Paris, DJ Ibaaku, Sara Tavares, Congo Stars de Vibration, Dj Lucky, Lady G Brown.
 Malick Sidibé, Nuit de Noël (Happy Club), 1963
Centro de Arte Quetzal, Vidigueira
No contexto do festival, o Centro de Arte Quetzal apresenta uma selecção de trabalhos dos artistas sul-africanos Marlene Dumas, Moshekwa Langa e William Kentridge, incluindo a série de curtas-metragens de animação (Dez desenhos para projecção 1989-2011), e um mural tipográfico da artista egípcia e libanesa Bahia Shebab, com o título Mil Vezes Não.
William Kentridge Levitation 1996
Marlene Dumas Cain+Abel (Twins) 1989
Segunda-feira, 20 de Janeiro de 2014
A special theme also has its place here, that of slavery. It is special in that it does not feature in traditional images of reverse-glass painting. In the 1980s, on the initiative of Y. Dupre, administrator of the Regards Croises association, Gora Mbengue produced a series of works relating to slavery. Then in 1989-90 Mor Gueye took over and created a series inspired by the same theme. Here, for the first time, we are presented with a dramatic subject handled gravely. This is unusual, for reverse-glass paintings tend to tackle all themes positively, if not always with humour. Whether the subject is Islam, where we en­counter religious propaganda or a cult of the saints, history, in which the praise of national heroes is sung, or tales and proverbs, where the oral tradition is itself celebrated, there is not one reverse-glass painting that is not optimistic. Even in scenes of daily life, humour, sometimes mixed with cynicism, is brought to bear on theft, adultery, domestic conflict and other problems, large and small. After all, the end justifies the means: the moral message asserts itself almost by accident, with ease and never sententiously. We receive constant lessons in good spirits; then, sud­denly, in a commissioned work on slavery we encounter drama. Reverse-glass paintings bluntly confront us with the brutal reality: torture, chains, babies thrown to crocodiles in front of their mothers, distress, the house of the slaves at Goree, whose 'door of no return' requires no comment. It is, of course, impossible to handle the issue of slavery with detachment. Attemps to generate laughter in order to avoid crying would be inexcusable. The fact, therefore, that traditional reverse-glass painting never alludes to this episode in Senegal's history is in no way surprising, for it would be a departure from the fundamentally optimistic inclination of this art. Interesting as further attempts to portray the history of slavery might be, this particular commission was intended to teach a lesson in tolerance in schools and cultural centres, and slavery remains a marginal trend. Further, one must not forget that reverse-glass paintings were originally intended exclusively for Senegalese people - to define their religious af­filiation, for example, or to educate, or to supply decorative scenes that would give an aesthetic touch to a home. What Senegalese would want to awaken such painful memories when, thanks to reverse-glass paint­ing, he can instead proclaim his deepest beliefs, both religious and intel­lectual?
Senegal and Gambia were the first regions in western Africa from whence slaves were exported. This commerce, at its height in the 18th century, was encouraged by the kings of Kayor and Baol, who traded human merchandise for various products, especially guns.Wolof aristocrats and leading citizens did not need the impetus of this commerce to create their own reserves of slaves, who were already to hand under the caste system. They did not have any scruples about systematically seizing individuals or groups that they could use for bar­tering. As for the French, their insatiable demand for African labour sanctioned this state of affairs. The lure of profit did the rest, establishing a foul triangular system of commerce that was to prove to be difficult to abolish.
Anne-Marie Bouttiaux-Ndiaye 
in Senegal Behind Glass, Images of Religious and Daily Life
(Profane genres and subjects)
© 1994 Prestel-Verlag, Munich and New York and the Royal Museum for Central Africa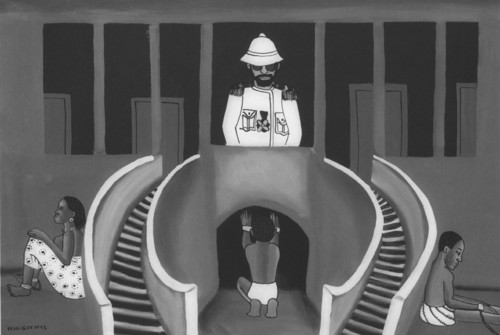 Mor Gueye  The House of Slaves at Goree, 1992
33x48 cm 
Private collection
A black and white composition, both in theme and tone. The white officer in his uni­form, conceited and haughty, dominates the scene by his height as well as by his position in the organization of the image. The black slaves are crushed, small, crumpled and separated, with the women on one side and the men on the other, just as the house of slaves was actually arranged. At the 'door of no return', a gaping black hole, is a slave squatting in front of the inescapable fate that awaits him. There are a few contemp­orary 'scholarly' artists who work in black and white, but Mor Gueye is the only tradi­tional one who does so.
Sábado, 18 de Janeiro de 2014
Moral tales and proverbs have generated a whole spectrum of paintings, often dealt with humorously, and with certain characters treated with derision. There is no doubt that these pictures follow the same pedagogic purpose as the tales, sayings, riddles and other stories that are told at home by the fireside in the evening. When the women were out buying reverse-glass paintings to decorate their homes, they not only sought out examples that articulated their religious beliefs, but also ones that would show examples of good and bad behaviour to their children.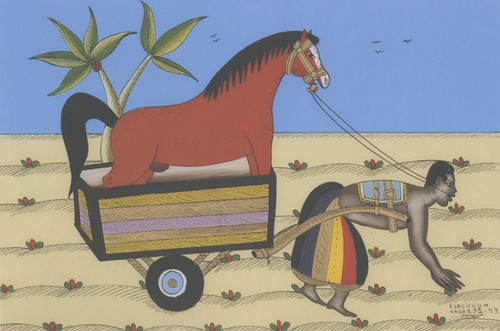 Alexis Ngom The Torment of the Bad Master, 1995
55x48 cm
Private collection
© Royal Museum for Central Africa, Tervuren
This painting illustrates a widely held belief according to which a master who mistreated his animals will be punished after his death by the ones he mistreated.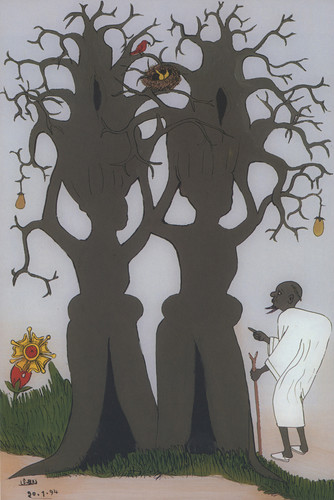 Babacar Lo (Lô Ba)  The Baobab-Women, 1994
48 x 33 cm
© Royal Museum for Central Africa, Tervuren
A tale from Casamance: two young women are turned into baobab trees for mocking an elderly hunchback. The moral of the story is a reminder of the strong respect in which the elderly are held in African societies.
Anne-Marie Bouttiaux-Ndiaye 
in Senegal Behind Glass, Images of Religious and Daily Life
(Profane genres and subjects) 
© 1994 Prestel-Verlag, Munich and New York and the Royal Museum for Central Africa
Domingo, 12 de Janeiro de 2014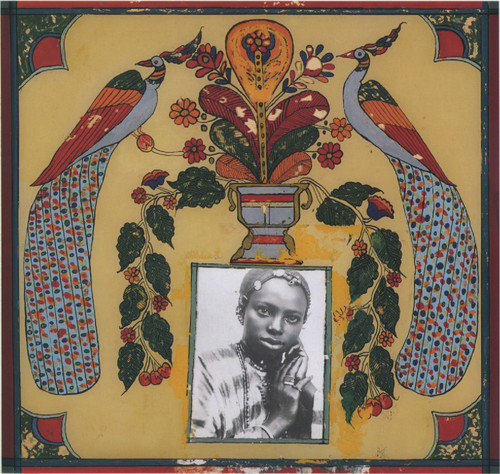 Anonymous
A Young Woman, no date
photograph, with a painted decorative background, 45 x 47 cm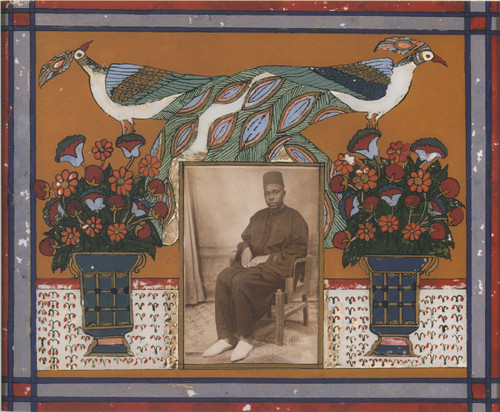 Anonymous
Seated Man, no date
photograph, with a painted decorative background, 50 x 60 cm
Following German and Dutch precedent, where paintings made on the back of glass are called Hinterglasmalerei and achterglasschilderij re­spectively, we have coined the term 'reverse-glass painting'. To speak of 'behind-glass' painting generates ambiguity, and it hardly conveys an idea of the basic technique, which involves work performed on the back of a sheet of glass. (Although 'back-of-glass' removes all ambiguities, it is dreadfully cumbersome.) The term eglomise, widely used by histor­ians of the decorative arts, refers specifically to a technique that involves decorating glass by means of gilding, while the expression 'fixed under glass' refers, of course, to pictures pasted behind or framed under glass.The word 'fixed' is, none the less, frequently encountered in the liter­ature on Senegalese art, and, if its application is often incorrect, it is sometimes partially appropriate in a few early examples where both techniques — painting and pasting — are combined: these examples are chromolithographs or photographs that have been placed behind painted glass. Finally, in Senegal, glass paintings are called suwer, a Wolof word directly borrowed from the French sous-verre (behind or under glass). By extension, suwer is the term that is also used to emphasize the qualities of culinary dishes made with a great variety of ingredients: a ceebu jen (rice with fish) is called ceeb suwer when it is richly decorated and colourful.
Anne-Marie Bouttiaux-Ndiaye
in Senegal Behind Glass, Images of Religious and Daily Life 

© 1994 Prestel-Verlag, Munich and New York and the Royal Museum for Central Africa, Tervuren