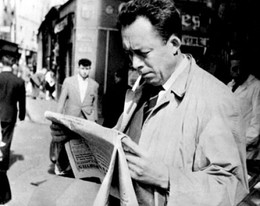 Albert Camus (1913-1960)

Great writers are either husbands or lovers. Some writers supply the solid virtues of a husband: reliability, intelligibility, generosity, decency. There are other writers in whom one prizes the gifts of a lover, gifts of temperament rather than of moral goodness. Notoriously, women tolerate qualities in a lover — moodiness, selfishness, unreliability, brutality — that they would never countenance in a husband, in return for excitement, an infusion of intense feeling. In the same way, readers put up with unintelligibility, obsessiveness, painful truths, lies, bad grammar — if, in compensation, the writer allows them to savor rare emotions and dangerous sensations. And, as in life, so in art both are necessary, husbands and lovers. It's a great pity when one is forced to choose between them.
Again, as in life, so in art: the lover usually has to take second place. In the great periods of literature, husbands have been more numerous than lovers; in all the great periods of literature, that is, except our own. Perversity is the muse of modern literature. Today the house of fiction is full of mad lovers, gleeful rapists, castrated sons — but very few husbands. The husbands have a bad conscience, they would all like to be lovers. Even so husbandly and solid a writer as Thomas Mann was tormented by an ambivalence toward virtue, and was forever carrying on about it in the guise of a conflict between the bourgeois and the artist. But most modern writers don't even acknowledge Mann's problem. Each writer, each literary movement vies with its predecessor in a great display of temperament, obsession, singularity. Modern literature is oversupplied with madmen of genius. No wonder, then, that when an immensely gifted writer, whose talents certainly fall short of genius, arises who boldly assumes the responsibilities of sanity, he should be acclaimed beyond his purely literary merits.
I mean, of course, Albert Camus, the ideal husband of contemporary letters. Being a contemporary, he had to traffic in the madmen's themes: suicide, affectlessness, guilt, absolute terror. But he does so with such an air of reasonableness, mesure, effortlessness, gracious impersonality, as to place him apart from the others. Starting from the premises of a popular nihilism, he moves the reader — solely by the power of his own tranquil voice and tone — to humanist and humanitarian conclusions in no way entailed by his premises. This illogical leaping of the abyss of nihilism is the gift for which readers are grateful to Camus. This is why he evoked feelings of real affection on the part of his readers. Kafka arouses pity and terror, Joyce admiration, Proust and Gide respect, but no modern writer that I can think of, except Camus, has aroused love. His death in 1960 was felt as a personal loss by the whole literate world.
Whenever Camus is spoken of there is a mingling of personal, moral, and literary judgment. No discussion of Camus fails to include, or at least suggest, a tribute to his goodness and attractiveness as a man. To write about Camus is thus to consider what occurs between the image of a writer and his work, which is tantamount to the relation between morality and literature.
Susan Sontag
in Against Interpretation and Other Essays (Camus' Notebooks) pp.52-53
© Susan Sontag, 1961, 1962, 1963, 1964 , 1965, 1966
Leia também aqui
Fotografia de Albert Camus encontrada aqui
Camus na Wikipédia aqui
Nota:
Aos leitores que não lêem inglês recomendo a ferramenta de tradução, disponível neste blog na coluna da direita .
Quand les idéologies, les dogmes, les explications globales et définitives du monde sont mises à contribution pour nous réformer et nous apprendre à vivre dans le but de faire notre bonheur — pas pour tout de suite sans doute, mais enfin pour les générations suivantes, toujours pour les générations suivantes — et que l'on se débat avec beaucoup
d'incertitude, de remords et de confusion afin de faire entendre malgré tout sa voix, il est sage de revenir auprès d'Albert Camus pour se sentir un peu plus fort.
Quand l'absurdité de notre destin, l'approche imprévisible et inéluctable de la mort comme seule certitude, l' intolérance, l'injustice et la violence comme réalité quotidienne paralysent le désir d'agir, de créer et de transmettre, il est bon de revenir auprès d'Albert Camus pour éprouver ce qu'est l'envie de vivre.
Quand le soleil d'un soir de mer et l'indifférence d'une grande ville, le plaisir d'une amitié et le côtoiement de la misère, l'élan vers un sourire et un corps, et la tendre et vague satisfaction du désir emplissent l'existence avec des bouts de rêve et des nuages d'inquiétude, il est apaisant de revenir auprès d'Albert Camus pour mieux savoir aimer.
Le beau gosse en imperméable n'est pas venu traîner sa dégaine à la Bogart depuis Alger, la Libération et le Nobel pour qu'on l'endorme sur les pages du Lagarde et Michard, et il n'est pas mort en pleine jeunesse pour qu'on le range hâtivement quelque part entre Rimbaud et James Dean au rayon des destins foudroyés.
Albert Camus nous parle de nous, d'ici et de maintenant; c'est assez simple, en somme, il suffit de lui ouvrir son cœur et son esprit pour vouloir que la seule nouveauté qui vaille toujours est celle d'être fraternel.
" Vous savez ce qu'est le
charme: une manière de
s'entendre répondre oui sans
avoir posé aucune question
claire."
Frédéric Mitterrand
introdução de  Albert Camus, in Destins d'étoiles - volume II
© P.O.L.,Fixot,1991
imagem: Albert Camus retratado por Cecil Beaton