A special theme also has its place here, that of slavery. It is special in that it does not feature in traditional images of reverse-glass painting. In the 1980s, on the initiative of Y. Dupre, administrator of the Regards Croises association, Gora Mbengue produced a series of works relating to slavery. Then in 1989-90 Mor Gueye took over and created a series inspired by the same theme. Here, for the first time, we are presented with a dramatic subject handled gravely. This is unusual, for reverse-glass paintings tend to tackle all themes positively, if not always with humour. Whether the subject is Islam, where we en­counter religious propaganda or a cult of the saints, history, in which the praise of national heroes is sung, or tales and proverbs, where the oral tradition is itself celebrated, there is not one reverse-glass painting that is not optimistic. Even in scenes of daily life, humour, sometimes mixed with cynicism, is brought to bear on theft, adultery, domestic conflict and other problems, large and small. After all, the end justifies the means: the moral message asserts itself almost by accident, with ease and never sententiously. We receive constant lessons in good spirits; then, sud­denly, in a commissioned work on slavery we encounter drama. Reverse-glass paintings bluntly confront us with the brutal reality: torture, chains, babies thrown to crocodiles in front of their mothers, distress, the house of the slaves at Goree, whose 'door of no return' requires no comment. It is, of course, impossible to handle the issue of slavery with detachment. Attemps to generate laughter in order to avoid crying would be inexcusable. The fact, therefore, that traditional reverse-glass painting never alludes to this episode in Senegal's history is in no way surprising, for it would be a departure from the fundamentally optimistic inclination of this art. Interesting as further attempts to portray the history of slavery might be, this particular commission was intended to teach a lesson in tolerance in schools and cultural centres, and slavery remains a marginal trend. Further, one must not forget that reverse-glass paintings were originally intended exclusively for Senegalese people - to define their religious af­filiation, for example, or to educate, or to supply decorative scenes that would give an aesthetic touch to a home. What Senegalese would want to awaken such painful memories when, thanks to reverse-glass paint­ing, he can instead proclaim his deepest beliefs, both religious and intel­lectual?
Senegal and Gambia were the first regions in western Africa from whence slaves were exported. This commerce, at its height in the 18th century, was encouraged by the kings of Kayor and Baol, who traded human merchandise for various products, especially guns.Wolof aristocrats and leading citizens did not need the impetus of this commerce to create their own reserves of slaves, who were already to hand under the caste system. They did not have any scruples about systematically seizing individuals or groups that they could use for bar­tering. As for the French, their insatiable demand for African labour sanctioned this state of affairs. The lure of profit did the rest, establishing a foul triangular system of commerce that was to prove to be difficult to abolish.
Anne-Marie Bouttiaux-Ndiaye 
in Senegal Behind Glass, Images of Religious and Daily Life
(Profane genres and subjects)
© 1994 Prestel-Verlag, Munich and New York and the Royal Museum for Central Africa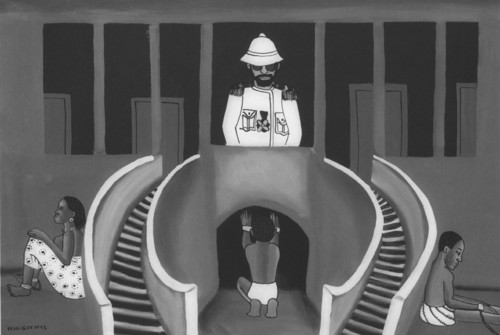 Mor Gueye  The House of Slaves at Goree, 1992
33x48 cm 
Private collection
A black and white composition, both in theme and tone. The white officer in his uni­form, conceited and haughty, dominates the scene by his height as well as by his position in the organization of the image. The black slaves are crushed, small, crumpled and separated, with the women on one side and the men on the other, just as the house of slaves was actually arranged. At the 'door of no return', a gaping black hole, is a slave squatting in front of the inescapable fate that awaits him. There are a few contemp­orary 'scholarly' artists who work in black and white, but Mor Gueye is the only tradi­tional one who does so.