La vida es un sueño y los sueños sueños son. Calderón cut a play's title out of that old Spanish proverb. Life is a Dream. The rest translates: 'Dreams are dreams.'
On the fifth of March 1933, the banks of the nation closed. Led more by a nose for drama than by the concern proper to a son, I hustled uptown to see how the 'old man' was weathering the crisis; my curiosity was not altogether sympathetic.
His business was located at 295 Fifth Avenue, the Textile Building, a hive of importers, wholesalers like himself, dark-complexioned men, immigrants all, most of them Armenians but some Anatolian Greeks, as well as a few Persians, Syrians and Egyptians. These men had come overseas from the East, propelled by a dream: that here their throats would not be cut. Working in the dust of carpets, living alone in dark back rooms, depriving themselves of pleasures, they'd put the dollars together, year after year, obeying the voice in the air of America; to accumulate money; that was safety, that was happiness. They married late, unromantically, going back to their native lands, as my father had, to find a proper woman out of their own tradition, ten, fifteen, twenty years younger, then made children as quickly as possible in half-paid-for homes while dutifully continuing to feed their accounts in banks whose doors, that morning, had remained locked.
Generally these men entered my father's store only when they had a customer whose needs they weren't able to meet from their own stock. They'd escort this buyer to Father's place and there pick up, in place of a profit, a commission. These encounters were rare since they were a last resort. My father's competitors paid each other no casual visits. But when I walked in that morning, there they were, a dozen or more, sitting cross-legged on piles of three-by-five Sarouk or Hamadan 'mats', clumped together in static postures, like hens roosting. Motionless, inanimate, they seemed to be waiting – but for what? Occasionally a few mournful words would be mumbled, a puzzled complaint. No response was expected, none offered.
Skirting the motionless figures, I circled back to the small desk where I was supposed to tend the accounts-due books. With business as bad as it had been, there'd been little to do that summer. I'd typed a few letters: 'Your immediate check would be sincerely appreciated' or 'We will regretfully be forced to place your account in the hands of our lawyers.' But most of the time I'd tilted up the large stock of our book and hidden The Brothers Karamazov behind it. This had been noticed, of course, and reinforced the general opinion that I was a young man without a future.
On this morning I sat idle, like the others, studying the assembly of merchants, men whose skins had once been a rich olive and were now pale from worry and the cold light that concrete walls shed. They're like shipwrecked sailors, I thought, thrown up on a desert and waiting for someone to rescue them.
Actually my father's business had gone 'kaput' - his word — three years before, in 1929, when the market collapsed. He'd put the yield of a life's labour into a stock issued by the National City Bank. Bought at just over 300, climbing as millions cheered past 600, it then rumpled with all the others down the mountain of high finance, like the boulders of an avalanche, to 23. At that time, he'd thought of his disaster as something for which he was in some way responsible; he must have done something wrong, made some awful mistake. Had he been outsmarted? Had he been cheated?
But now, in 1933, on the day the banks closed, surrounded as he was by men who shared the catastrophe — no one smarter, no one luckier, he knew them all to be as ordinary as he was - Father must have begun to accept that what had happened was more serious than any mistake he could have made. The men around him were all bleeding from the same invisible lesions. In a few years many of them would be out of business. They all shared a dread of what was coming.
Elia Kazan
in  A Life   p.102-103
© Elia Kazan 1988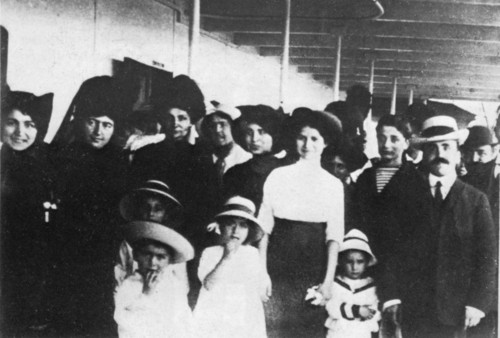 On board the Keiser Wilhelm which brought us to America (1913)