Quarta-feira, 30 de Junho de 2010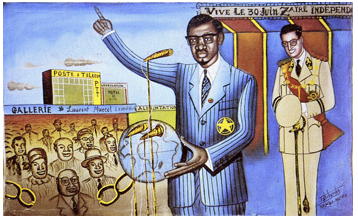 "TKM Lumumba Indépendance " Peinture de Tshibumba. Ca 1972.
My father and I have patched things up. He allowed me to accompany him to Leopoldville, where we got to see history in the making. We watched the Independence ceremonies from a giant rusty barge tied to the bank of the Congo River that was loaded with so many pushing, squirming people Mrs Underdown said we'd probably all go down like the Titanic. It was such an important event King Baudouin of Belgium, himself, was going to be there. It was childish, I know, but I got very excited when she told me that. I suppose I was picturing someone in a crown and an ermine-trimmed scarlet robe, like Old King Cole. But the white men sitting up on the stage were all dressed alike, in white uniforms with belts, swords, shoulder fringe, and white flat-topped military hats. Not a single crown to be seen. As they waited their turn to speak, dark sweat stains blossomed under the arms of their uniforms. And when it was all over I couldn't even tell you which one had been the King. […] After the King and the other white men spoke, they inaugurated Patrice Lumumba as the new Prime Minister, I could tell exactly which one he was. He was a thin, distinguished man who wore real eyeglasses and a small, pointed beard. When he stood up to speak, everyone's mouth shut. In the sudden quiet we could hear the great Congo River lapping up its banks. Even the birds seemed taken aback. Patrice Lumumba raised his left hand up and seemed to grow ten feet tall, right there and then. His eyes shone bright white with dark centers. His smile was a triangle, upcurved on the sides and reaching a point below, like his beard. I could see his face very clearly, even though we were far away.
'Ladies and gentlemen of the Congo' he said, 'who have fought for the independence won today, I salute you!'
The quiet crowd broke open with cheers and cheers. 'Je vous salue! Je vous salue encore!'
Patrice Lumumba asked us to keep this day, June 30, 1960, in our hearts forever and tell our children of its meaning. Everyone on the raft and the crowded banks would do what he said, I knew. Even me, if I ever get to have any children.
Barbara Kingsolver
in The Poisonwood Bible (Book II The Revelation – Leah) pp. 206-207
© Barbara Kingsolver, 1998
Aos leitores interessados recomendo vivamente este romance sobre a independência do Congo Belga e as três décadas que se lhe seguiram. A história é narrada a várias vozes, as da mulher e das filhas de Nathan Price, um baptista evangélico que leva a família para o interior do Congo Belga em 1959. A acção estende-se até à Angola dos anos 80. Um livro fascinante, que inclui extensa bibliografia sobre o tema. Em português: A Bíblia Envenenada,  aqui.
Esta imagem e outras aqui
Quarta-feira, 9 de Dezembro de 2009
Sem Título, 2009.  Gouache sobre papel
de Vasco Futscher
Quand une histoire est impossible, ils pensent que ce n'est pas la peine de la vivre.
En revanche dans les livres et les films, s'il n'y a pas cette impossibilité, ils trouvent aussitôt que l'histoire est ratée.
*
Une phrase un peu pompeuse, mais de temps en temps j'aime bien: « il y a dans mes rêves un homme qui s'appelle J'Existe. »
*
Il va mourir, et l'aumônier lui demande quel prénom il veut emporter avec lui. L'idée le séduit. Ça le réveille un peu. Il cherche. Hélas, il a beau draguer le passé, aucun prénom ne s'allume. Il revoit des visages, et rien d'autre. Tatouani avec ses yeux bridés: c'est éteint, ça ne miroite pas. Isabelle, la terrible infidèle: éteint. La douleur: éteinte. Les flamboiements des retrouvailles ; éteints. Lucie : éteinte. Poussière. Michèle: suréteinte. Gaby la folle: éteinte, détrempée par les larmes qu'il a versées pour elle et qui ont perdu leur sens aujourd'hui. Eh oui, tout est déjà mort, même si ces femmes sont sûrement florissantes de santé quelque part, même s'il est là devant la mort puisqu'un aumônier, tout de même, c'est la preuve. Et pourtant, il n'y a que lui de vivant. Alors, comme il faut dire un prénom, que c'est le jeu, il dit: « Paloma. » Il a toujours rêvé de rencontrer une femme qui s'appelle Paloma. Et celle-ci, elle est bien là. Il la voit.  Ah, on peut compter sur quelque chose. Tout ne part pas dans l'oubli.
*
Elle me parle du grand courage qu'il faut pour mettre au pied du mur quelqu'un qu'on aime et qui va vous dire non. Et ô combien ce courage est nécessaire si on veut avoir une chance d'entendre un oui.
* 
Et moi, pendant qu'absolument tout le monde me croyait seule dans mon chagrin au milieu de ce cimetière, je réalisais la part d'amour que les morts vous laissent.
*
Je pense, à un moment donné de ce livre, c'est-à-dire ici vers la fin, que je suis peut-être de ceux qui vivront l'amour sans personne.
*
Et puis, octobre, quelqu'un me rencontre.
Et je le laisse faire.
Alors tu vois.
Sophie Fontanel
in L' amour dans la vie des gens
© Éditions Stock, 2003
 Mais sobre o livro e a autora
Recolha de aforismos e vinhetas, entre o desencanto e a candura, ou o diário de um desgosto sentimental transformado em inquérito sobre o amor.
Pintura: Vasco Futscher / trabalhos recentes aqui
Domingo, 9 de Agosto de 2009
I didn't expect silence. We had always talked so much. She was my best friend as well as my sister: a little less than three years younger than me, the child I needed to protect when I was still a child (and my parents scarcely grown-ups themselves); yet I could not protect her now. When we knew that she was going to die, because the cancer had spread to her lungs and her liver, we spoke about how we would always talk to each other, even after her death. Neither of us had grown up believing in a conventional Christian afterlife (and anyway, I had given up on that unkind God after his failure to answer my prayers to save her); but, even so, it seemed impossible that we would ever be separated by silence, that our voices were contained only in our flesh and blood.
Yet in the weeks after her death, I heard nothing. At night there were just my own muffled screams in the pillow when I went to bed; or the memory that I tried to block out but which filled my head of her agonized breath on her last night, as she gasped for all that remained of life. And I could say nothing to her except, 'I love you, I love you, I love you.' 'I love you too,' she whispered, before she slipped away to a place where I could not follow.

Justine Picardie
in If the Spirit Moves You
© Justine Picardie, 2001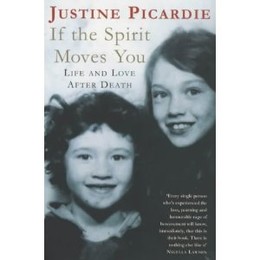 Este e outros livros da autora aqui
Inconformada com a morte da irmã, esta jornalista britânica passou um ano a investigar aqueles que dizem comunicar com 'o outro lado'. É o diário de um luto, transformado em inquérito sobre a vida depois da morte na era do cepticismo. Um livro honesto e comovente.