Whose Sleeves? (Tagasode)
Japan, late 16th century
Joao Rodrigues was born about 1562 at Sernancelhe in northern Portugal and sailed to the East while still a boy of twelve or thirteen years of age. He entered the Jesuit Order in Japan and obtained such a proficiency in Japanese that he acted as Valignano's interpreter at the audience granted by Hideyoshi in 1591. From that date onwards he made frequent visits to court, acting as spokesman for the Jesuit missionaries and interpreter for the delegations of Portuguese merchants. After Hideyoshi's death in 1598, Tokugawa Ieyasu continued to favor him and even appointed him as his commercial agent in Nagasaki. Jealousy and resentment on the part of local officials resulted in his exile to Macao in 1610 after living in Japan for thirty-three years, during which time he met many of the leading political and artistic figures of the day. [...]
In addition to his business activities in Japan he found time to publish at Nagasaki in 1608 the Arte da Lingoa de Iapam, a truly monumental work, for it was the first systematic grammar of the Japanese language. Not only does he describe the spoken and written language in exhaustive and possibly excessive detail, but he includes for good measure fascinating accounts of Japanese poetry, letter writing, and history.[...] It is in his account of Japanese art that he displays his outstanding talent, and his description of the tea ceremony, flower arrangement, painting, lacquerwork and calligraphy is unrivaled in contemporary European reports. His appreciation of the Japanese artistic temperament is remarkable, and he accurately and sympathetically portrays the elusive feeling of sabi, the transcendental loneliness of the homo viator in this fleeting world of dew, and the sentiment of wabi, the spirit of disciplined and aesthetic frugality in art and life.
 [...] Writing about the spirit of the tea ceremony, Rodrigues observes:
Hence they have come to detest any kind of contrivance and elegance, any pretense, hypocrisy and outward embellishment, which they call keihaku in their language…
Instead, their ideal is to promise little but accomplish much; always to use moderation in everything; finally, to desire to err by default rather than by excess…The more precious the utensils are in themselves and the less they show it, the more suitable they are.
It would be difficult to improve on this summary description of the traditional Japanese canon of taste. Written today by a Westerner, the passage would indicate a commendable understanding and appreciation of an essentially alien culture; to have been written three and a half centuries ago reveals Joao Rodrigues as a unique interpreter not only of the language but also of the artistic genius of the Japanese people.
Michael Cooper
in The Southern Barbarians
, The First Europeans in Japan
[Japan Described: The reports of the Europeans]
M. Cooper, A. Ebisawa, F.G. Gutierrez, Diego Pacheco 


Edited by Michael Cooper
Kodansha Ltd, Japan and Palo Alto, Calif.U.S.A. in cooperation with Sophia University, Tokyo, 1971.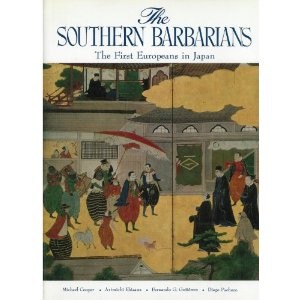 Notas:
Imagem: Whose Sleeves? (Tagasode) aqui
Texto citado aqui
Azuchi–Momoyama Period aqui 
Prémio Rodrigues, o Intérprete aqui