It is tempting to quote authors when they express our very own thoughts but with a clarity and psychological accuracy we cannot match. They know us better than we know ourselves. What is shy and confused in us is succinctly and elegantly phrased in them, our pencil lines and annotations in the margins of their books and our borrowings from them indicating where we find a piece of ourselves, a sentence or two built of the very substance of which our own minds are made - a congruence all the more striking if the work was written in an age of togas and animal sacrifices. We invite these words into our books as a homage for reminding us of who we are. But rather than illuminating our experiences and goading us on to our own discoveries, great books may come to cast a problematic shadow. They may lead us to dismiss aspects of our lives of which there is no printed testimony. Far from expanding our horizons, they may unjustly come to mark their limits.Montaigne knew one man who seemed to have bought his bibliophilia too dearly:
Whenever I ask [this] acquaintance of mine to tell me what he knows about something, he wants to show me a book: he would not venture to tell me that he has scabs on his arse without studying his lexicon to find out the meanings of scab and arse.
Such reluctance to trust our own, extra-literary, experiences might not be grievous if books could be relied upon to express all our potentialities, if they knew all our scabs. But as Montaigne recognized, the great books are silent on too many themes, so that if we allow them to define the boundaries of our curiosity, they will hold back the development of our minds.
[…] However modest our stories, we can derive greater insights from ourselves than from all the books of old:
Were I a good scholar, I would find enough in my own experience to make me wise. Whoever recalls to mind his last bout of anger... sees the ugliness of this passion better than in Aristotle. Anyone who recalls the ills he has undergone, those which have threatened him and the trivial incidents which have moved him from one condition to another, makes himself thereby ready for future mutations and the exploring of his condition. Even the life of Caesar is less exemplary for us than our own; a life whether imperial or plebeian is always a life affected by everything that can happen to a man.
[…] There is no need to be discouraged if, from the outside, we look nothing like those who have ruminated in the past. In Montaigne's redrawn portrait of the adequate, semi-rational human being, it is possible to speak no Greek, fart, change one's mind after a meal, get bored with books, know none of the ancient philosophers and mistake Scipios.
A virtuous, ordinary life, striving for wisdom but never far from folly, is achievement enough.
Alain De Botton
in The Consolations of Philosophy (Consolation for Inadequacy) pp.161-168
© Alain De Botton, 2000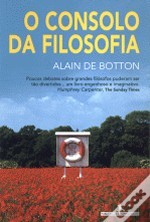 em português aqui