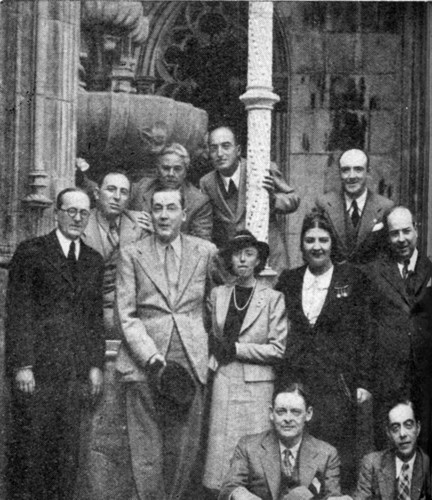 Sintra (Portugal) 1938:
Seated are T. S. Eliot and Guilherme Pereira de Carvalho, editor of «Lisbon-Courier». — Middle row (from the left): Robert de Traz, Jacques de Lacretelle, Mme de Lacretelle, Mme. A Ferro [Fernanda de Castro], António Ferro — Upper row (from the left): Máximo Buontempelli, Aldo Bizarri, J. Silva Dias.
In 1938 T.S. Eliot came to Portugal at the invitation of the Secretariado de Propa­ganda Nacional and took part in the jury which awarded the Camoes prize to Gonzague de Reynold. In June 1943 — in the middle of World War II — Eliot sent the editor of the Portuguese magazine «Aventura» Ruy Cinatti a letter: 
I am convinced (I may say in explanation) that the ultimate unity of Europe cannot come through identity of political organization, or a legal-political federation, or a vague brotherly love, or an identity of interest among the masses of the people, but from the unity of the Christian Faith, and the unity in diversity of civili­zation and cultures which Christianity brought about in the past.
And for the latter, I believe that the literary periodicals of the highest standards in each European capital have a responsibility, not only to their readers at home, but to each other.
For a few years it seemed as if my hopes might approximate as nearly to realization as human hopes can; and there were half a dozen literary periodicals, some now extinct, some, alas! the same only in name, which could, in time, have done a great deal in spontaneous co-operation (1).
We know what happened; and we saw political divergences, which in part represented a normal reaction against the nineteenth century illusion that there must be one ideal form of government equally suitable for every nation, encroach upon the field of culture, until political variety became cultural disunion. In a situation in which the chief cultural effort of each country is to protect itself against the culture of others, such interchange as my review The Criterion and the other reviews I have in mind required, became impossible.
Those of us who were engaged in that attempt during the twenty years between the wars, may have resigned our personal hopes, but have not, I am sure, abandoned our aspirations. We trust that Europe will not follow the same course again; and we look for another literary generation to realize our frustrated ambitions.
in "Lisbon Courier"  nº 33, Dezembro 1948
Notes:
1. The Managing Editor of «Lisbon-Courier» [Dr. M. W. Clauss] had met T. S. Eliot in 1928 in London, in his former capacity as Managing Editor of the «Europaeische Revue». Until 1932 this monthly revue, published in German in Vienna, Leipzig, and Ber­lin by Austrian Prince Charles Antoine de Rohan, established a close cooperation and exchange of articles with the «Nouvelle Revue Française» (Paris), «Nuova Antologia» (Rome), Ortega's «Revista del Occidente» (Madrid) and, last but not least, Eliot's «New Criterion».
2.«Lisbon-Courier» published this photo and text in 1948 to mark the award of the Nobel Prize for Literature to T.S. Eliot.
3. T.S. Eliot and the other members of the jury of Camoes Prize-1938 here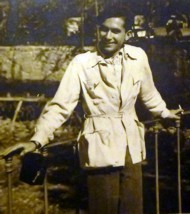 Ruy Cinatti aqui