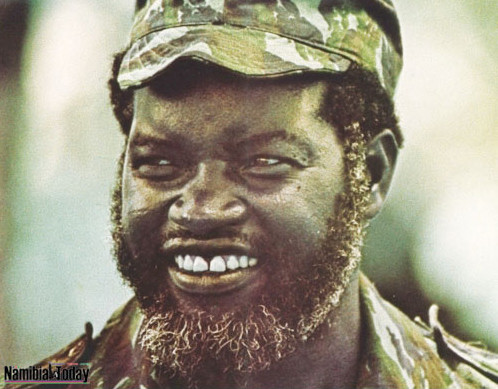 Sam Nujoma

Windhoek
Nome bem posto: o vento não amaina na capital da Namíbia onde em 1990, depois de muitos anos de luta anti-colonial, tomou posse o primeiro presidente, Sam Nujoma. Outros chefes de movimentos independentistas de colónias britânicas – Julius Nyerere da Tanzânia (traduziu The Merchant of Venice para suaíli – nunca lhe perguntei se, nessa versão, Shylock em vez de ser judeu era indiano – inventou uma utopia socialista africana e arruinou o país sem derramamento de sangue) ou Oliver Tambo da África do Sul que durante a prisão de Mandela dirigiu o A.N.C. mantendo-o amarrado a visão marxista revolucionária, ou Robert Mugabe do Zimbabué, católico da libertação africano que de entrada seguiu o conselho do moçambicano Machel e não tocou nos bens dos brancos e depois fez marcha atrás transformando a agricultura mais rica de África numa miséria escandalosa, ou outros ainda – durante os anos da luta tratavam o camarada Nujoma um pouco por cima da burra por não o acharem tão inteligente e tão culto quanto eles eram.
Independências africanas foram vindo, Pretória percebeu que tinha de acabar com o apartheid. Antes livrou-se da Namíbia, antiga colónia alemã cuja ocupação as Nações Unidas haviam condenado. Depois de muitas peripécias, de Nova Iorque veio o finlandês Matti Ahtisaari, por Pretoria estava o Administrador-Geral Louis Pienaar, do mato e do exílio vieram lugares-tenentes de Nujoma. Entre o fim das conversações e a independência visitei os protagonistas. Pienar e Ahtisari contaram-me a mesma história, o primeiro como cangalheiro a ler-me uma certidão de óbito e o segundo como parteira que me narrasse um nascimento. Esperando a coroação, Nujoma, de fato de safari e sandálias, estava à vontade na moradia onde me recebeu, mobilada tão à pressa que vaso de planta grande ao lado dos sofás novos tinha ainda a etiqueta do preço: 8 rands e 99.
Num jantar em Joanesburgo meses depois, jornalista contou-me ter amigo dentista de que agricultor rico da Namíbia era cliente. (A vasta maioria dos grandes proprietários rurais da Namíbia são afrikaners). Homem de uns 70 anos estivera no consultório com o filho uma semana antes: tudo ia pelo melhor, sem quaisquer desmandos ou empecilhos à sua actividade que a independência tivesse trazido. A certa altura quisera referir-se ao Presidente, não se lembrara do nome e perguntara ao filho: "Como é que se chama o cafre que trata da política?"
Na sua simplicidade Nujoma percebera uma coisa enorme que escapara à finura dos outros (e a muitos sociais democratas europeus): com o fim do comunismo acabara a razão de ser de muitas práticas social-democratas. Que o capitalismo tenha de se modificar e depressa, não há a menor dúvida; que se insista para o fazer numa espécie de comunismo laite não tem pés nem cabeça. Aumenta o mau viver, desacredita a classe política, desanima os empresários, enxota os investidores: pior do que a austeridade, atrasa o futuro. Quando é que a esquerda europeia tomará juízo?